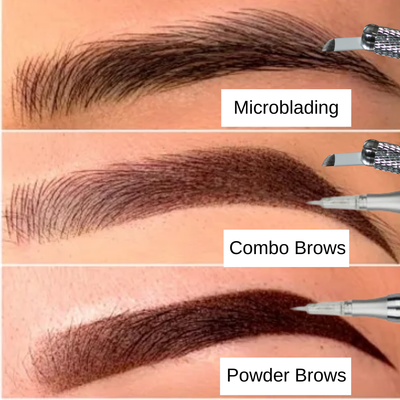 Microblading
Microblading is a semi-permanent tattoo on the brow that is applied using a manual tool (no machine). Safe, organic pigments are deposited into the very outer layer of skin with very small, individual, feathered strokes that perfectly mimic eyebrow hair. The result is a very natural look that won't need to be filled in with make-up.
The procedure is done using a hand tool, with a pre-packaged, sterile, single use "blade" made up of a grouping of needles that are 3 x smaller than the needles that would be used in a tattoo machine. With the appropriate amount of pressure, the skin is scored and the pigment is deposited into the epidermis (outermost layer of skin).
Combo Brows
Combo brows is a combination of two forms of semi-permanent techniques: microblading and powder brows (shading), that creates an makeup look with hyper-realistic hair strokes. This is a beautiful option for clients who wish to achieve a "fluffy" look at the fronts of their brows, but need a bit more density through the body of brow. Touch Up needed 1-2 years.
permanent makeup.
Powder Brows
Powder Brows uses an ultra-fine tattoo needle and a Permanent Makeup (PMU) Device to deliver pigment to the skin. Powder Brows are sometimes referred to or called "Ombre Brows." Powder Brows result in a look most like makeup powder. Touch Up needed 1-3 years.
Permanent eyebrow treatments are perfect for the following:
Hair loss and lack of definition/shape
Thin brows caused by years of over tweezing.
Chemotherapy or Alopecia
Scars, gaps in the brow
Lengthening the tails of existing eyebrows
Thickening thin brows
Correcting asymmetry
Active lifestyles
Trouble applying conventional makeup.
BROWS PRE PROCEDURE INFORMATION
When your procedure is completed the color will be intense and very dark. It will take 3-5 days for this color to settle and heal in the skin allowing a soft natural color to emerge.
If you have a extremely oily skin the Microblading technique will not work well for you. The constant production of oil will cause the hair strokes to heal with a diffused, softer look. That will cause your healed result more powdery then desired.
BROWS AFTER PROCEDURE INFORMATION
PLEASE NOTE: Eyebrows will appear darker and bolder due to natural scabbing and healing for the first 5 days. This is very common for all permanent cosmetic procedures.
Within the first few hours after the procedure, you can gently wipe over your eyebrow area with a cotton disc rinsed in Luke warm water.
This step must be repeated the morning after the procedure as well. This removes any lymph discharge.
Apply after care ointment once a day for two weeks after the procedure. Do not use too much, only seal the area, this will allow the
skin to still breathe.
No scratching, rubbing of the treated area as when you pick a scab the pigment may be removed.
Avoid heavy sweating for the first 5 days.
Avoid direct sun exposure or tanning for 3-4 weeks after the procedure.
NO facials, Botox, chemical treatments or microdermabrasion within 4 weeks.
Very important is to never allow foundation to cover the eyebrows. This will result in grey looking eyebrows with foundation over it.
Permanent makeup on eyebrows will always look stunning when you have your eyebrows hair tinted regularly. We place pigment under the skin. Hair is on top, and it will make your PMU appear lighter. Remember to tint your eyebrows regularly.
TAKE NOTE: After all Permanent Make-Up procedures the colour will be very extreme and vibrant until the healing process is complete. It is normal for areas to lose colour and fade with time, Perfection and durability will be achieved on the touch up procedure.